By greatk2 |
12
September 2023 |
0
Comentarios
Up Your Game with Great K2 – The Ultimate Motorcycle Vinyl Wrap
The world of motorcycles is a colorful and competitive one. You're not just riding a motorcycle, you're making a statement. An eye-catching motorcycle is not only a matter of style but also of safety. One way to make sure you stand out from the crowd is a great vinyl wrap. If you're looking for the best quality, vibrant graphics, and custom designs, Great K2 has got you covered. In this blog post, we'll explore why you should consider Great K2's vinyl wrap for your motorcycle and what makes them stand out.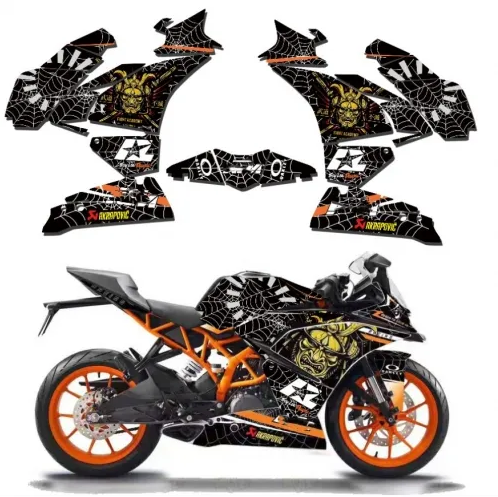 Here are some of the key reasons why you should use Great K2's vinyl wrap for your motorcycle.

1. Durability & Protection – Great K2's vinyl wrap is built to withstand the harsh weather conditions and keep your motorcycle color looking sharp for a long time. The material protects the original paint from scratches, rust, and UV rays, and it's easy to clean. You won't need to worry about fading or peeling, even with frequent use.

2. Affordable Option – A custom paint job could set you back a fortune; Great K2's vinyl wrap provides a cost-effective alternative. The price of a wrap is significantly lower than getting a paint job, which means you can change the design frequently without breaking the bank. Plus, the process is less time-consuming; it won't keep your bike sidelined for days.

3. Customization & Variety – With their wide variety of vinyl wrap motorcycle designs, Great K2 allows you to customize your motorcycle according to your preference: minimalist, bold, retro, or futuristic. You can choose from a wide range of colors, finishes, and textures. Plus, if you want to create a unique wrap with your favorite design or logo, Great K2's team will work with you to achieve your vision.

4. Easy to Install and Remove – With Great K2's vinyl wrap, you don't need to be a professional to install your wrap successfully. It's relatively easy to install, and the company provides detailed instructions and videos. What's more, if you change your mind or want to sell your motorcycle, the vinyl wrap is easy to remove without damaging the original paint.

5. High Quality – Great K2 is committed to providing high-quality products that meet international standards. Their vinyl wrap motorcycle material is manufactured with superior machinery, making it the best quality on the market. The ink used for printing is long-lasting, vibrant, and resistant to fade. The result is a masterpiece that you'll be proud to show off.

If you want to up your game and make a statement with your motorcycle, a vinyl wrap from Great K2 is the way to go. Their vinyl wrap motorcycle material is durable, affordable, easy to customize, and comes in a variety of designs. Plus, their team is friendly, professional, and will work with you to create a perfect design that will make heads turn. So, what are you waiting for? Contact them today to get started. Email: sale@greatk2.com or Tel: +86-21-67726171.
Deja una respuesta
Su dirección de correo electrónico no se publicará. Los campos obligatorios están marcados. *